ShowPics
One of the staples of the Sam community life were the twice-annual (Spectrum and) Sam shows, which were held in Quedgeley near Gloucester. In case you're wondering, the reason that more of these pictures feature the pub than the Sam, is probably because of the very strong community spirit amongst Sam owners - most of the mailing list regulars are genuinely good friends - and thus even the many bargains within the show, were never quite so strongly attractive as the pub next door...
April 1997

An early group photo with just a few of the Sam people at the Gloucester show in April 1997. From the left; Frode Tenneboe, Simon Cooke, Stefan Drissen, Dan Doore, Ian Slavin, Andrew Collier.

---


Bob Brenchley caught in mid-rhetoric

---


Famous names flock to Gloucester! (And then go to the pub.) Here is Chris White of Lemmings fame.

---


"Look, Colin I'm just *not* interested....."

---


The notorious shower cap, modelled by Stefan Drissen.

Michael Stocks manning the Zodiac stand

---


Simon Cooke is applauding Stefan Drissen, merely for eating his fried egg.

---


Simon Cooke decided it would be great to have photos of each other taking photos of each other. And here's the other one.. What happenned to his elbow?

---


A rare sight - Allan Skillman's chequebook :)
---
April 1998

No idea who this jolly chap is.


---


It's Graham Goring! "You call this a pint?!"


---


James Curry wanted somebody to "finally take a decent picture of me at a Gloucester show". Sorry to disappoint you there, James.


---


Dan Doore is definitely not trying to pick Colin Anderton's nose.


---


Queueing for the toilets.


---


Dan looks jealously at Paul Horridge's dinner. "You're not going to eat all that, are you?"


---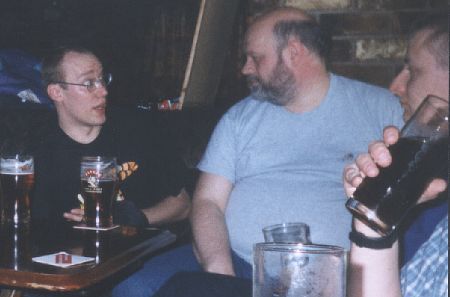 "I'm sorry, did my foot get under yours?"
---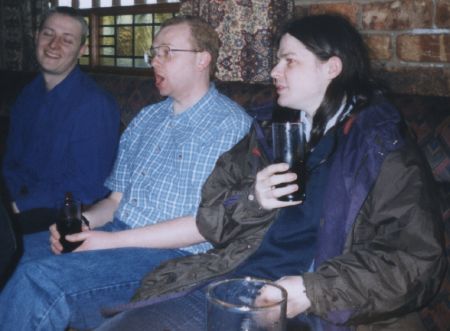 Colin MacDonald's antics in the after-show pub trips are legendary.
---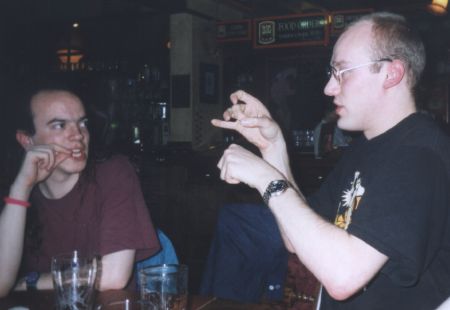 Dan: "Now if I just pull this fishing line attached your bad tooth, we'll have it out no time"

<![if !IE]>