Sam Coupé downloads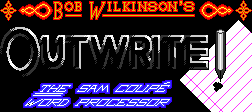 Outwrite 2.0
By kind permission of the author Robert Wilkinson, the Sam's foremost word processor is now available for free download. Copyright is held by Robert Wilkinson. Outwrite was previously released by Chezron Software, publishers of Outlet disk magazine.
Download Outwrite as a zipped .DSK file (212 K)

Also by Robert Wilkinson, Sam Morse Code Tutor (16K)

---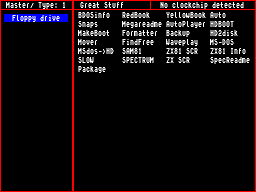 Martijn Groen's Utilities
BDOS 1.7d and a disk of associated utilities by Martijn Groen, mostly for use with the Atom IDE interface.
Click here
for more information about BDOS.
Click here
for details of the other programs on the disk image.
Download BDOS 1.7d and the Atom Utilities as a gzipped .DSK file (344 K)

Also by Martijn Groen
Perpetual Sounds music demo, RGB Demo, Cute Demo (by Martijn Groen with Robert Van der Veeke) and converted 128K Spectrum demos
Perpetual Sounds (254K)

RGB Demo (232K)

Cute Demo, Art Vision, MilkyWay 1&2 (208K)

Cyber Dream Demo, Parallax Demo (224K)

---

Sam .dsk Image Manipulator
This simple program allows you to transfer individual files between a .dsk image and your hard disk. Original C source code is availble (
Mac version
). The
ANSI C version
(altered by Thomas Harte) was used to compile the DOS version and should also work on Unix-like operating systems.
Download Mac (PPC) executable (28 K) - requires Stuffit Expander 5.
Download DOS/Win32 executables (44K)
---
Paulo Silva's Utilities
Paulo Silva writes:Around 8 years ago I coded these picture converters for the display modes 1 and 2 of Sam Coupé - I think I coded them on QBasic, and I'm about recoding them on Python (maybe using Pygame, due on the picture loading and saving better support) - anyway, the code is GPL and all there.
For these codes, the pictures must be uncompressed bmp files with 16 colours, since it loads the .bmp file byte by byte. The results works fine on Edwin Blinky's Screen Viewer.
Download Picture Converters (16 K)
A very silly converter, but i think it can make the difference for newbies - it helps people converting txt files into sam coupe files into Sam Coupé disks (or imagedisks) - the code is very simple (and with lots of naive mistakes) but can be hugelly useful, like it were for me, when still lacks something similar to 'bas2tap' (from ZX-Spectrum) for Sam Coupé.
Download Text 2 SamBASIC Converter (8 K)

---
If you want your Sam-related programs to be hosted here please

email

them to me together with a brief description.

<![if !IE]>